Shipbuilding Facilities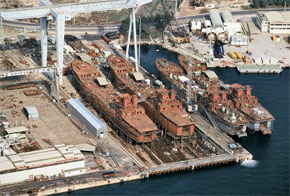 A 200m x 55m  building  berth  for constructing  ships of up to 100,000 DWT. This building  berth is served by a 400 tons capacity Gantry  crane.
A newly constructed shipbuilding  hall for building  ships under  cover up to 100m in length.
A 6,600m2 covered steel  fabrication  shop  fully equipped   for cutting, forming  & welding of steel  and  aluminum  plates and  profiles.
A variety of boring,milling machines and lathes cover the full marine applications including repairs & machining operations to heavy gear such as rudders,tailshafts,thrusters.
Pipes are cut and bent by highly pro- ductive cutting and forming equipment Three CNC  Pipe Bending machines can bent pipes up to 8 ".Pipe shop has facilities to flush hydraulic piping andto test hydraulically pipes and fittings.
Highly skilled fit- ters and welders can perform any kind of welding whatever the material (HP pipes, St.steel, Copper, Cunifer, Alluminum al- loys, etc).